Multilingual software
EDMUS lets you select the language to use among:
English,
French,
German,
Italian,
Portuguese (Brasilian),
Portuguese (European),
Spanish,
and soon Turkish.
All windows, panels, dialog boxes are translated, as well as the program output (Synopsis and Graphs). See here how to set the language to use.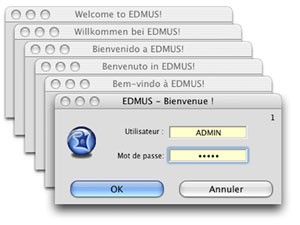 Note: if you use a slower computer, a few "heavy" panels containing a lot of items, such as "Clinical Assessments", may be a little slow to appear on-screen, because every single item has to be translated on the fly.
Example: the Neurological Episodes panel
Here is for instance the Neurological Episodes panel in the available languages:
What is not translated (yet)?
The Thesauruses are not translated: they are used to allow EDMUS to use a standardized nomenclature. You will find them in lists of terms and in some menus. They will be translated in a future version of EDMUS (except of course for the personal items you may have added to them, since the Thesauruses can be enriched by the user).